8rental.com, https://8rental.com, is a fraudulent website set up by thieves from Moldova in 2016. This website was started based on stolen information and under fake identities. The offenders attract their victims by low prices under the disguise of fake information that they spread about themselves in the Internet pretending to be a big UK company. In actual fact, they are two crooks based and operating out of Moldova under fake identities. They defraud opportunistically both consumers and carriers alike by using a variety of techniques. Since we have uncovered them, they liaise hiding under anonymous Gmail accounts posing as travel agencies, visiting groups or overseas consumers.
8rental.com – Fraud inception
8rental.com was set up under fake identities by two Moldovan individuals in 2016. They started 8rental.com from a theft when one of these persons, Denis Jmakov (also Денис Жмаков in Russian as per his ID card), Moldovan national, born on 20.09.1990 in Vulcănești, the identity number of the Republic of Moldova: 2004008010630, stole data and working materials from his then employer. See more information directly from his former employer by following this link: https://blog.1cares.com/2018/05/beware-of-fraudsters-8rentalcom.html#8rental-scam
8rental.com – Fraud development
It is without any surprise that the thieves from 8rental.com promote their website via fraud and deception. In particular, 8rental.com provides fraudulent and fake information about themselves seeking to attract by deception potential victims and counterparts. Furthermore, the fraudsters from 8rental.com do not hesitate to advertise fake scholarships in US Colleges and Universities.
8rental.com – Fake information reported on Crunchbase.com
8rental.com reports fake information on Crunchbase.com to be a European giant of transportation founded in 2007 and employing 250-500 persons.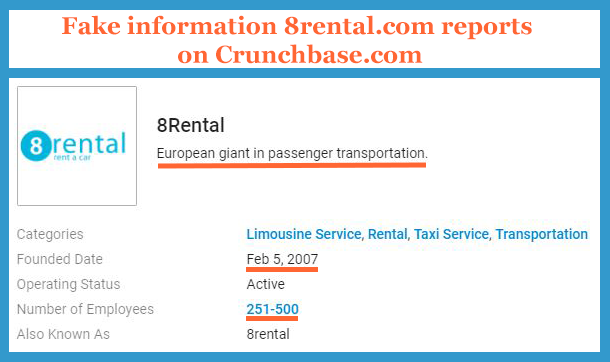 8rental.com – Fake information reported in Facebook
8rental.com fraudulently reports in Facebook to be in operation since 2000.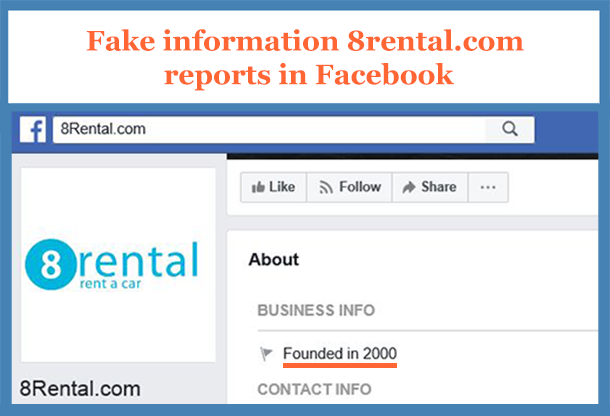 8rental.com scammers announce fakes scholarships in US colleges and universities
To pretend to be a big company and lure unsuspecting students from the US to write the content for their website, the fraudsters from 8rental.com went as far as to announce fake schoarships in a number of colleges and universities in the United States. See our blog for the detailed investigation into the 8rental.com fake scholarships scam.
8rental.com scammers manipulate Google search rankings
Our investigation has revealed that the 8rental.com scammers use criminal methods to manipulate the Google search rankings. The technique consists in employing cybercriminals to hack various poorely protected websites in the target countries and place the promotional content and links for the 8rental.com fraudulent website. The same technique is equally used to place abusive content for the websites competing with the 8rental.com fraudsters in the Google search rankings. It is also worth mentioning that the 8rental.com offenders use over a hundred of porn websites to place their abusive and porn related anchor text for their competitors. This fact is another testimonty that 8rental.com scammers are none other than criminals and are connected to criminals. See more details into the 8rental.com scam Google search ranking manipulation.
8rental.com scam fake customer reviews and manipulation
To conceal their criminal activity the fraudsters from 8rental.com have learned to manipulate customer reviews. They post fake positive customer reviews for themselves in various customer review platforms such as in TrustPilot, Google and a number of others. They also manage to fraudulently remove negative reviews. See our blog for more details into how 8rental.com scam manipulates customer reviews.
Real names of 8rental.com scammers
Our investigation has enabled us to find out the true identities of 8rental.com fraudsters. They turned out to be two Moldovans based in the Republic of Moldova in Chisinau.