Committee for the Prevention of Fraud in Transport (CPFT)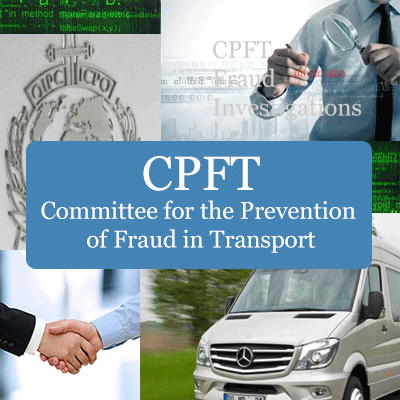 The Committee for the Prevention of Fraud in Transport (CPFT) combats fraud and scam and promotes fair market practices in the industry of the rental of passenger vehicles with driver in Europe. Our primary focus are the countries of the European Union, United Kingdom, Switzerland, Norway, Liechtenstein, Monaco and Andorra.
CPFT is set up and managed by a group of carriers and intermediaries providing the passenger transport services by coach, van, car or limousine in these countries.
Our raison d'être
Globalisation of the travel sector and full Internet penetration have contributed in the recent years to the proliferation of various fraudsters and criminals pretending to be well established carriers or reputable intermediaries and seeking to make criminal money by defrauding or simply stealing from the most vulnerable audiences. This does not only distort healthy and fair competition but also damages the image of our industry, thus reducing its size, as some potential customers turn to alternative means of transport.
The offenders normally feed on the cross-border travel and bookings. Their favorite hunting ground are situations when a potential victim is a non-professional buyer, makes a booking for a brief visit in a foreign country and does not master the language of the country in which the booking takes place. Such victims of the fraud then often find themselves unable to even file a complaint because of the language barrier, inconveniences and prohibitive cost of doing it from a faraway foreign country or simply because they lack necessary skills or time. The victim sometimes turns to customer review websites in a hope to punish the offender but in most cases unsuccessfully as the offenders possess techniques and skills to efficiently neutralise and even remove such negative reviews. This effectively leaves the offenders unpunished allowing them continuing their criminal activities for years, if not indefinitely.
As practice shows, an offender may not necessarily be a clear-cut criminal. We also know of cases when an inefficient carrier defrauds its occasional foreign customers. As a result, this is not only a fraud against a consumer but also a fraud against its peers as such crooked carriers gain an unfair advantage on their honest peers working hard to provide a great service for their customers. This effectively distorts fair competition in favour of crooked carriers.
The raison d'être of CPFT is to counter this unacceptable situation. We collect information about the offenders, find our their true identities when necessary, investigate their scam techniques, and use all legal means to bring an end to their fraudulent and criminal activities.
Our objectives
By fighting against fraud and scam we seek to achieve the following objectives:
Chase away fraudsters and criminals from our industry
Create a level playing field for all honest providers
Improve the attractiveness of our industry for the end consumers
Pursing these goals would directly benefit all honest providers in our industry, carriers and intermediaries alike, by cutting the revenue from fraudsters and criminals and diverting it to the true providers.
To carry out our mission we conduct investigations into all fraudulent activities reported by our members and other trustful industry participants. The results of our investigations are distributed among our members, in the industry and publicly to the general audience in the Internet as deemed necessary.