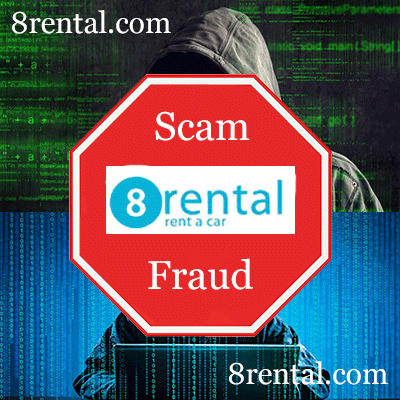 8rental.com, https://8rental.com, is a scam website set up by cybercriminals from Moldova in 2016. This website was started based on stolen information and under fake identities. The offenders attract their victims by low prices under the disguise of fake information that they spread about themselves in the Internet pretending to be a big UK company. In actual fact, they are a few crooks based and operating out of Moldova under fake identities. Until recently the scammers operate via an empty shell company Vehicle Reservation LLP registered in 2017 by two Moldovan individuals: Denis Jmacov and Alexandr Caragheorghi. (These links provide the official information from the UK Companies House.)
Update 2021: Vehicle Reservation LLP was forcefully closed (compulsory strike-off) by the UK authorities on July 13, 2021. This entity did not provide any financial reporting, nor paid any taxes. This is exactly what we predicted when we published our investigation about 8rental.com back in 2018.
They try to defraud opportunistically both consumers and carriers alike by using a variety of techniques. Since we have uncovered them, they liaise hiding under anonymous Gmail accounts posing as travel agencies, visiting groups or overseas consumers.
8rental.com - Fraud inception
8rental.com was set up under fake identities by two Moldovan individuals in 2016. They started 8rental.com from a theft when one of these persons, Denis Jmacov (also Денис Жмаков in Russian), a Moldovan national residing in Moldova, a former Soviet republic, stole data and working materials from his then employer. See more information directly from his former employer by following this link: https://www.1cares.com/article/en/fraud-8rental.com.html. Whoever needs to request more information about this individual in the framework of investigating 8rental.com scam, tax evasion or similar legitimate reasons please address directly his former employer. Two other individuals behind 8rental.com scam are Alexandr Caragheorghi, co-owner of Vehicle Reservation LLP) et Stefan Melestean who reports himself to be co-founder of 8rental.com. All are Moldovan nationals based in Chisinau, Moldova.
8rental.com - Fraud development
It is without any surprise that the cybercriminals from 8rental.com promote their website via fraud and deception. In particular, 8rental.com provides fraudulent and fake information about themselves seeking to attract by deception potential victims and counterparts. Furthermore, the fraudsters from 8rental.com do not hesitate to advertise fake scholarships in US Colleges and Universities.
8rental.com – Fake information reported on Crunchbase.com
8rental.com reports fake information on Crunchbase.com to be a European giant of transportation founded in 2007 and employing 250-500 persons.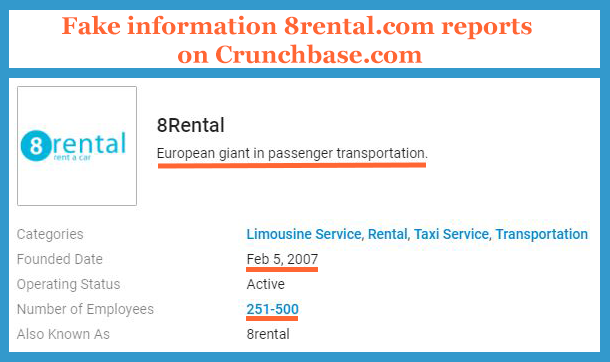 8rental.com – Fake information reported in Facebook
8rental.com fraudulently reports in Facebook to be in operation since 2000.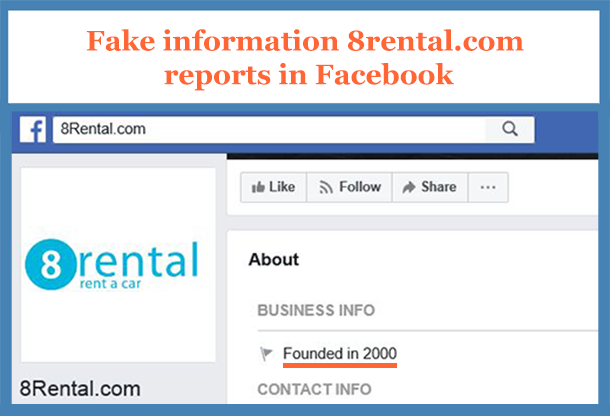 8rental.com scammers announce fakes scholarships in US colleges and universities
To pretend to be a big company and lure unsuspecting students from the US to write the content for their website, the fraudsters from 8rental.com went as far as to announce fake scholarships in a number of colleges and universities in the United States. To illustrate, here is a fake scholarship posted by 8rental.com fraudsters at the Washington State University.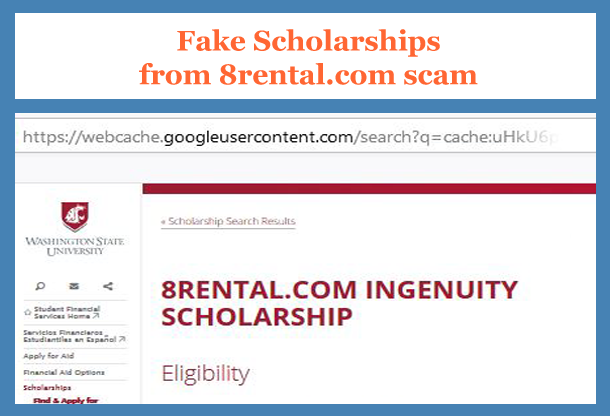 A number of US colleges and universities fell victim to the 8rental.com fake scholarships scam. We were reported this scam was perpetrated in the Washington State University, University of Massachusetts Amherst, Central Piedmont Community College, Eastern Kentucky University. And we have no certitude this list is exhaustive.
To fool the students the Moldovan scammers proclaimed themselves to be "a European giant of transportation" and made reference to a number of resources with fake and misleading information they created on such resources as Crunchbase.com, Facebook, on Zoominfo.com where they posted fake information about being a UK company in operation since 2000 and employing hundreds of employees.
Empty shell entity Vehicle Reservation LLP used by 8rental.com cybercriminals
8rental.com cybercriminals use an empty shell entity Vehicle Reservation LLP registered in June 2017 in a small residential house at the address Ground Floor, 2 Woodberry Grove, London N12 0DR along with over 25 000 other shell companies. (It is the same address they reported in Google and other resources for 8rental.com) This address is actually mired in the recent Panama Papers scandal as used by shady entities and outright criminal gangs for registering empty legal entities to be primarily used for money laundering and other illegal and crimial actitivies.
UK Companies house reports that Vehicle Reservation LLP was registered by two individuals: Denis Jmacov and Alexandr Caragheorghi, both the nationals of Moldova.
8rental.com scammers use criminal methods to promote themselves in Internet search rankings
Our investigation has revealed that the 8rental.com scammers use criminal methods to advance their search ranking in Google and other search engines. The technique consists in hacking various poorely protected websites in the target countries and placing the promotional content and links for the 8rental.com website. We have collected dozens of cases of evidence from small local websites hacked and filled with promotion for 8rental.com. The hacked websites have a promotional link for 8rental.com scam at the top or at the bottom of the hacked pages. To illustrate, here is a screenshot of the hacked website, www.thepoplars.info, a B&B in Salisbury in the UK, used to place an advertisement for 8rental.com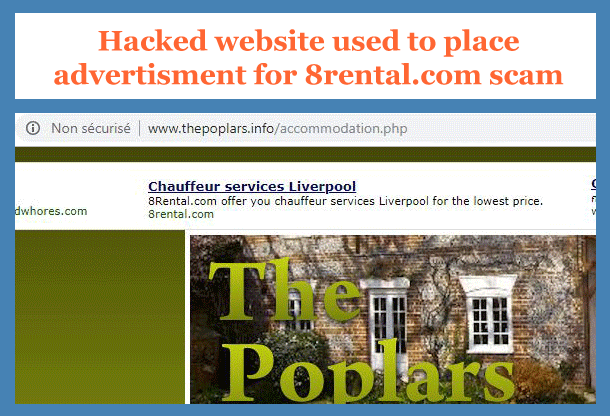 Some of the hacks were discovered and removed by the webmasters and website owners. However, we estimate that hundreds of such promotional links placed by 8rental.com hackers remain undiscovered.
In many cases it is not easy to notice that the website was hacked as the 8rental.com fraudsters normally utilise the technique of placing a tiny promotional link at the bottom of the hacked page. Such links are normally only visible if the browser view setting has a zoom of 200% or higher. But such links are perfectly visible for a Google bot, thus, providing promotional backlinks for the 8rental.com scam. To illustrate, here is an example of the hacked website www.braemarscotland.co.uk: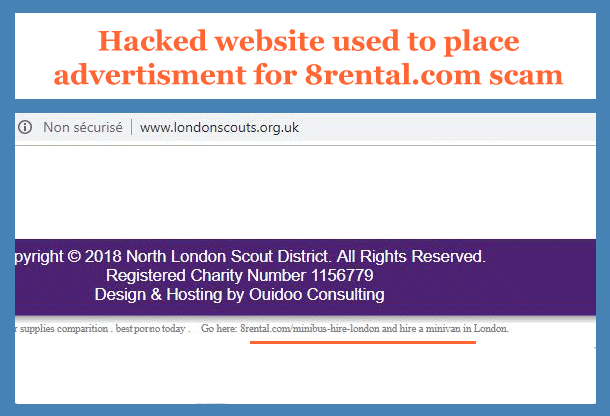 The same technique is equally used to place abusive content for the websites competing with the 8rental.com fraudsters in the Google search rankings. It is also worth mentioning that the 8rental.com offenders use over a hundred of porn websites to place their abusive and porn related anchor text for their competitors. This fact is another testimonty that 8rental.com scammers are none other than criminals and are connected to criminals.
To multiply the effect, the scammers use bots regularly visiting the links and clicking on them imitating the human behaviour. The idea is to fool a search engine into thinking the content of the website is relevant, thus, providing promotion for the 8rental.com scam or deteriorating web search ranking of a competing website depending on the purpose of the link.
8rental.com scam fake customer reviews and manipulation
To conceal their criminal activity the fraudsters from 8rental.com have learned to manipulate customer reviews. They post fake positive customer reviews for themselves in various customer review platforms such as in TrustPilot, Google and a number of others. The crooks from 8rental.com got so excited at the easiness of posting fake reviews that at some point they did not even bother to hide under a fake identity and posted fake reviews directly under their real name as in this fake 5-star review posted in Google by Stefan Melestean, one of the scammers behind 8rental.com. This same individual reported himself to be among the founders of 8rental.com in Angel.co, see https://angel.co/company/8rental/people for further details.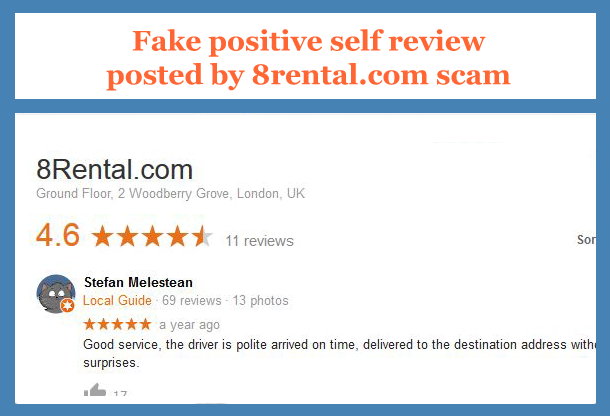 It is worth noting that the address they reported in Google for 8rental.com: Ground Floor, 2 Woodberry Grove, London N12 0DR, corresponds with the address of Vehicle Reservation LLP, a shell entity they used to conduct their operations.
We were also reported that they spam their competitors with fake negative reviews and fraudulently remove negative reviews about themselves. If you believe you are a victim of such abuse from 8rental.com scammers please report this information to us.